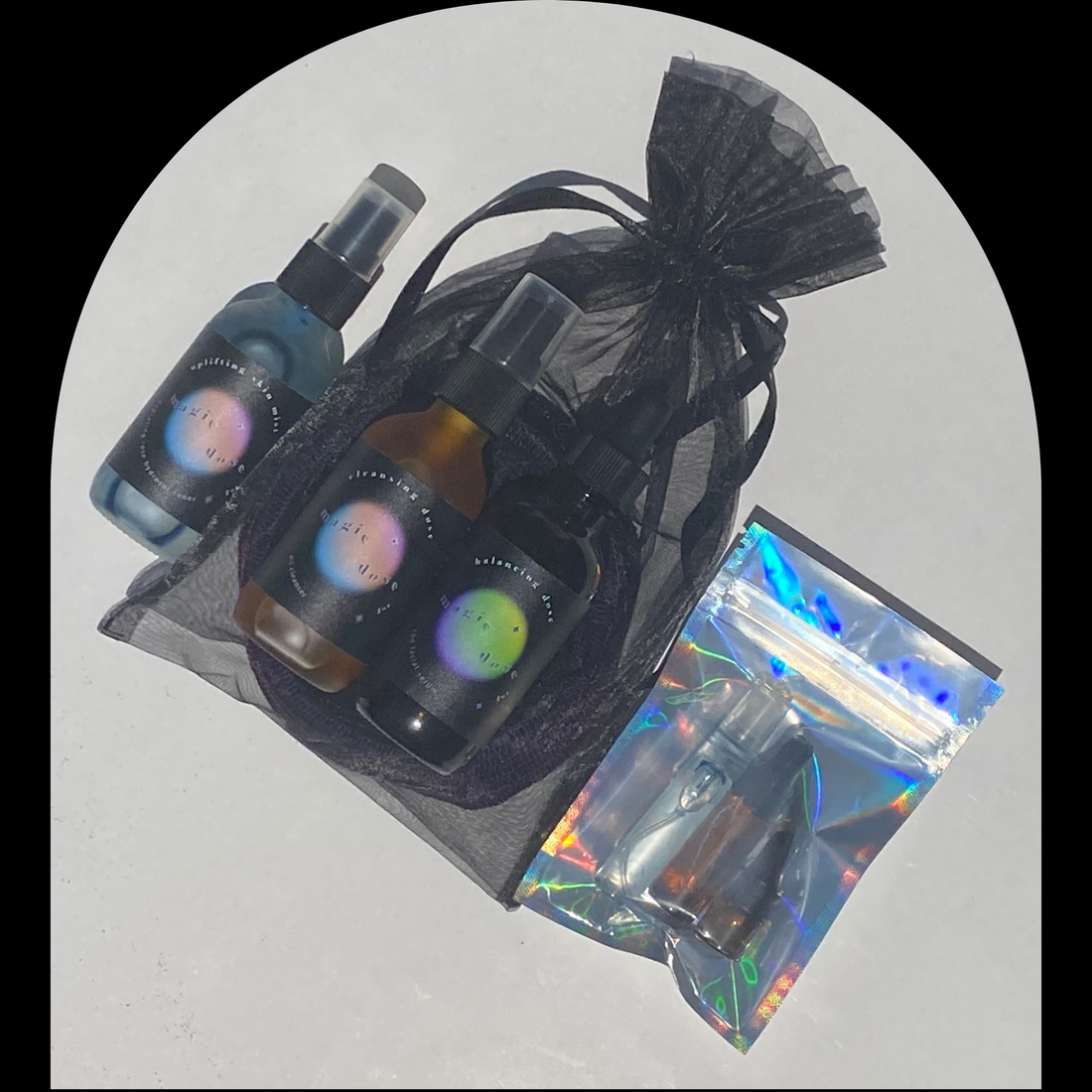 Description
how to use
what's in it
✦ the ultimate three step skincare routine.
✦ comes with cleansing dose, 10 reusable organic hemp facial rounds, uplifting skin mist, balancing dose and travel sizes of each in glass vials in a holographic bag.
✦ the mini trinity is for those wanting to try the trinity before making the full investment and contains travel size glass vials of each step sans the facial rounds.
✦ wet facial round with warm, filtered water and wring out so it is damp. disperse a few pumps of oil onto the round and smooth over face and neck in upward circular motions.repeat up to three times to remove all impurities.

✦ shake vigorously to emulsify the oils with the hydrosols. spritz onto face or body after cleansing, before oil or skincare application.

✦ distribute six drops of oil into palms of hands and rub together to warm while inhaling its scent. massage into skin using upward motions and end by patting gently into skin.



all organic ingredients:

balancing dose:
✦ hemp infused golden jojoba oil
✦ raw sunflower seed oil
✦ hemp seed oil
✦ rosehip seed oil
✦ red raspberry seed oil
✦ seabuckthorn oil
✦ lavender oil
✦ immortelle oil
✦ rose otto oil
✦ geranium oil
✦ cape chamomile oil
✦ frankincense oil
✦ sandalwood oil

cleansing dose:
✦ golden jojoba oil
✦ raw sunflower oil
✦ sea buckthorn oil
✦ tamanu oil
✦ lavender
✦ red grapefruit
✦ palmarosa
✦ sweet thyme
✦ rose otto

balancing dose:
✦ rose hydrosol
✦ calendula hydrosol
✦ olive squalane oil
✦ blue tansy
✦ immortelle
✦ rose otto
✦ carrot seed
✦ geranium
✦ lavender